Carvel Website - Cakes
Summary
By working closely with the business to define their strategy and tracking down real customers to understand their needs, we created a fun and dynamic menu to push the company's most profitable items.
This is the first responsive webpage in the cake industry that is designed mobile first, has search functionality, allows users to filter by the number of people a cake can feed, and can dynamically organize holiday cakes chronologically to allow customers to get to the cake they want for that upcoming event.
Background
Carvel is a regional ice cream company in the northeastern United States with a devout and cult like following. They are known for their local feel, fresh ice cream, and incredibly popular ice cream cakes. In 2017, they decided to redesign their website. For the design team the biggest challenge came for organizing and designing the Cakes section, which was and still is their highest generator of revenue. The main problem was fitting all of the cakes (over 200) a customer could be interested on a mobile screen. The second problem was getting the right information to the customer about each individual cake for them to feel confident in purchasing a relatively expensive product.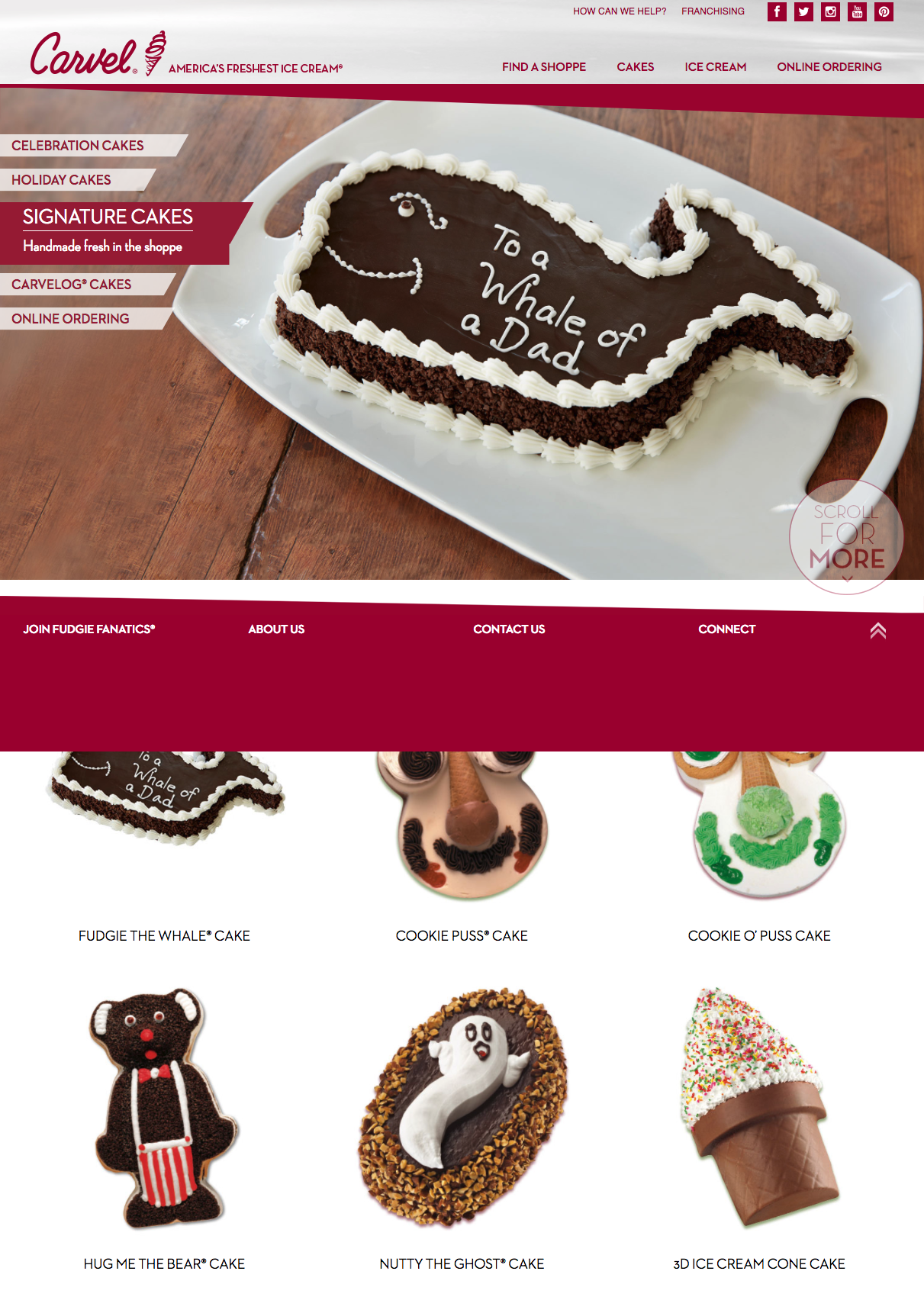 The Old Carvel Website - Desktop
The previous Carvel website fairly simple but had many outdated features, such as an automated carousel for advertisements and limited time offers.
Process
Background Research -> Brand Strategy -> User Research -> Iterative Design

We began the process with background research by collecting marketing documents, running a content audit and performing competitive analysis to get familiarity with the brand and its industry. During the content audit we found that Carvel had a large amount of content that was out-dated. We quickly realized it was because the small Carvel marketing team being spread too thin and couldn't handle maintaining the website's content. This helped us design a website that pushed evergreen content which didn't need to be updated and minimize time-sensitive content so the brand could more easily maintain their website.
During the competitive analysis we found Jeni's Ice Cream had a beautifully designed website but confusing layout for users. We also found that Baskin Robins had the most advanced website but hadn't been able to figure out how to fit all of their ice cream cakes on one mobile screen, so it defaulted to a desktop layout on a mobile device. We knew that these two problems would have to be the areas to figure out in order to create a better website than our competitors.
After listening to the brand and finding out their goals and current pain points, we moved into user research, recruiting customers from the New York Tri-State area.
Solution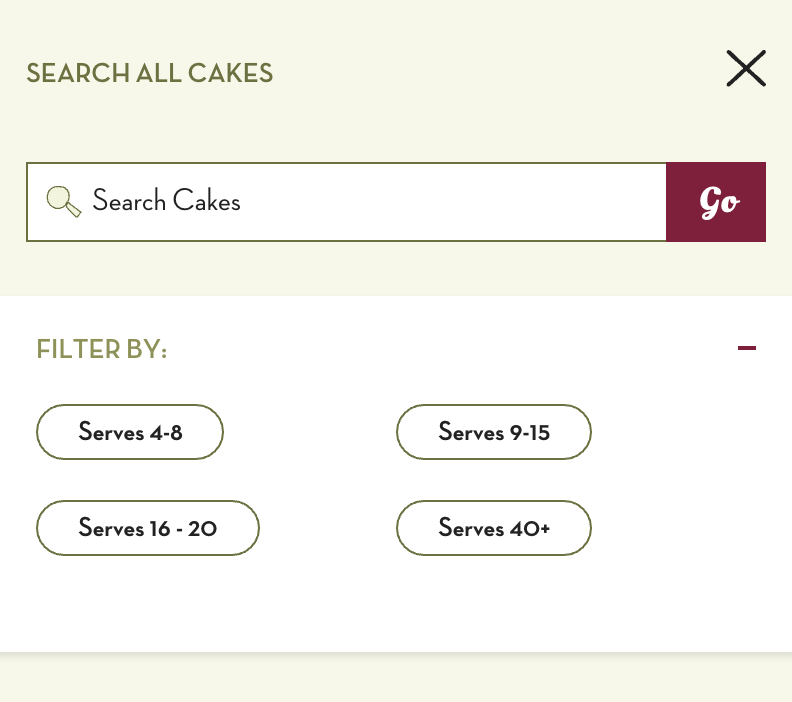 Customers can search for cakes by the name and amount of people it can feed. Perfect for the moms we spoke to who who wanted to be seen as "the hero of the party."
We found out from customers that they typically look for cakes a few weeks before an upcoming event, especially Father's Day, Halloween, and Thanksgiving. By grouping the cakes by holiday then dynamically organizing them by nearest date we improved the customer experience and improved the workflow for our content managers.
We were included allergen friendly options, serving size information, and the dimensions for customers to know if they could fit the cake in their freezer.
Results
The brand and customers loved the solution and we heard plenty of feedback about how innovating it was. However, we found out after roll out that franchisees were upset with how many cakes they were now selling. Even though it's their highest profit item, the franchisees feel that takes take too much time to make.
Although this could be classified as a win for Carvel and its customers, we learned how important it is to get in-depth feedback early from all stakeholders, especially franchsiees.