Customer Email Strategy
Background
The VP of the newly assembled digital team was looking for a quick win to prove the value of our team while simultaneously redesigning the first B2C website for Focus Brands. After going through the "5 Year Digital Roadmap" and investigating our current digital products (both internal and 3rd party vendors), we decided to improve our brands' email strategies as they seemed to be the furthest behind our competition.
Research
I had no prior professional experience with B2C email campaigns and found too much conflicting information from blogs around the web. Due to a lack of time and budget for usability evaluations, I had to come up with a different and new way to solve a problem without doing my preferred research and design process, the L.U.ME.N Model. After looking into a few different options I requested the company purchase the Nielsen Norman Group's (NN/G) report on email strategy because I knew that NNG was more scientifically researched based and accurate than anyone else in the field of UX.
I spent two weeks going through the 500+ page report. Along the way, I set up micro usability evaluations with internal employees to confirm or dispute the guidelines suggested by the NN/G report. All of my micro usability evaluations ended up confirming the information given in the report.
Strategy
Because part of this project was to show the value of our team, I had to sell the brands on our work. Because of the inability to create UX benchmarks or highlight videos without my own in-depth research I developed an "Email Grading Calculator" to measure the effectiveness of our current emails and our competitors using the NN/G's 211 email guidelines. I graded several of our brands emails as well as a future template using the guidelines as the blueprint for the design.
I created several templates that would theoretically improve the designs from a UX and Accessibility perspective, as well as open-rate and click through rate according to the NN/G guidelines. The old brand email scored between 38%-54% and the new template score was graded at 86% making a huge improvement using the guidelines.
Design
I sketched out a few designs before realizing that the guidelines had everything I needed. I only had to create a few components, less than 10, that could be mixed and matched to build an email that would fit the content the brand was wanting to push for a certain campaign. Not only did this simplification make my life easier, but more importantly it put less stress on the development team to come up with customized emails for every campaign.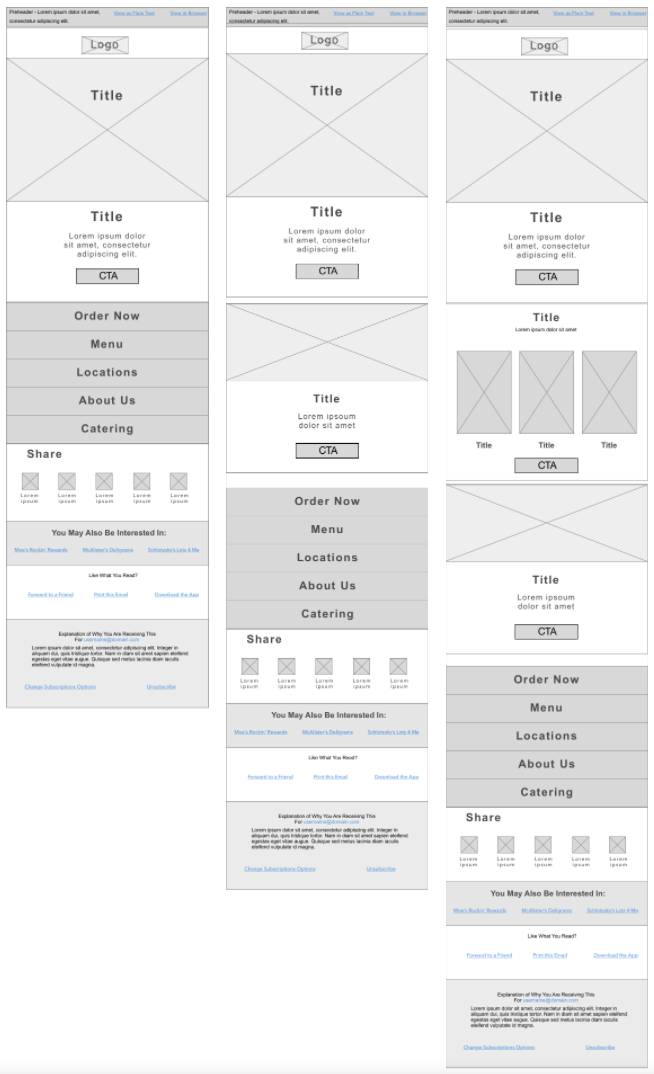 Using the guidelines from NNG, I was able to create a relatively small amount of components that could be used in diffferent email templates.
Result
The most important result from this work was not what we had originally expected being an increased click through rate or open rate, it was actually a legal result. Our vendors, on several different occasions, had left out links and the ability to unsubscribe. No one at Focus Brands had caught this previously and had put us at legal and financial risk. This design not only improved our legal status but also significantly increased our open and click through rates.